Introduction
In today's fast-paced digital age, online dating has become a prevalent avenue for people to find meaningful connections and potential life partners. Among the many online dating platforms, eHarmony.com stands out as a pioneer and a trusted name in the world of online matchmaking. Founded in 2000 by Dr. Neil Clark Warren, eHarmony.com has successfully facilitated millions of lasting relationships and marriages through its unique approach to matchmaking. This article will provide an in-depth exploration of eHarmony.com, its history, features, and the science behind its compatibility-based algorithm.
History and Background
eHarmony.com, headquartered in Los Angeles, California, was created with the aim of transforming the way people find love and build lasting relationships. Dr. Neil Clark Warren, a clinical psychologist with extensive experience in marriage counseling, founded the platform. His vision was to use scientific principles to enhance the online dating experience, making it more likely for individuals to find compatible partners.
Dr. Warren's expertise in relationship psychology led him to develop a unique compatibility-based matching algorithm. This algorithm considers a wide range of factors, including personality traits, values, beliefs, and interests, to provide users with highly compatible matches. eHarmony.com quickly gained recognition for its commitment to promoting long-term relationships and marriages, setting it apart from the casual dating culture that many other dating websites promoted.
How eHarmony.com Works
eHarmony.com's success is largely attributed to its intricate compatibility matching system, which aims to connect individuals who share similar core values, beliefs, and personality traits. Here's how the platform works:
Profile Creation: Users start by creating a detailed profile that includes information about their personality, interests, and what they are looking for in a partner. The profile questionnaire is extensive, covering a wide range of topics to ensure a comprehensive understanding of the user.
Compatibility Assessment: After completing the profile, users undergo a compatibility assessment based on the information provided. com's algorithm compares the user's responses with millions of other profiles to identify potential matches.
Receive Compatible Matches: Once the assessment is complete, users receive a list of compatible matches on a regular basis. These matches are carefully selected based on compatibility factors and are presented in a user-friendly format.
Communication: eHarmony.com emphasizes meaningful communication by encouraging users to get to know their matches before taking the next step. Users can send Icebreakers, which are pre-made questions to initiate conversation, or engage in guided communication.
Guided Communication: This feature allows users to exchange messages in a structured format, gradually getting to know each other's values, interests, and goals. This approach promotes deeper connections.
Open Communication: Once both users feel comfortable, they can move on to open communication, where they can freely exchange messages and plan dates. eHarmony.com still provides safety tips and guidelines to ensure a secure dating experience.
Success Stories: eHarmony.com is proud of its many success stories, which are often shared on the platform. These stories highlight real couples who met on the site and went on to build happy, long-lasting relationships or marriages.
Key Features of eHarmony.com
eHarmony.com offers a range of features designed to enhance the online dating experience and help users find compatible partners:
Compatibility Matching: The hallmark of eHarmony.com, this feature uses a sophisticated algorithm to match users based on 32 dimensions of compatibility, ensuring a higher likelihood of finding a meaningful connection.
Safety and Security: eHarmony.com takes user safety seriously and provides safety tips, guidelines, and a reporting system for any concerns. User data is also protected through strict privacy policies.
Mobile App: eHarmony.com offers a mobile app for on-the-go dating, allowing users to access their matches and communicate with potential partners from their smartphones.
Video Date: In response to the changing dating landscape, eHarmony.com introduced video dating to help users connect in a more personal way, especially during times when in-person meetings are challenging.
Premium Features: eHarmony.com offers premium subscription options, including features like unlimited messaging, enhanced search filters, and the ability to see who has viewed your profile.
Compatibility Quiz: In addition to the compatibility algorithm, eHarmony.com provides quizzes and articles to help users gain insights into their personality and dating preferences.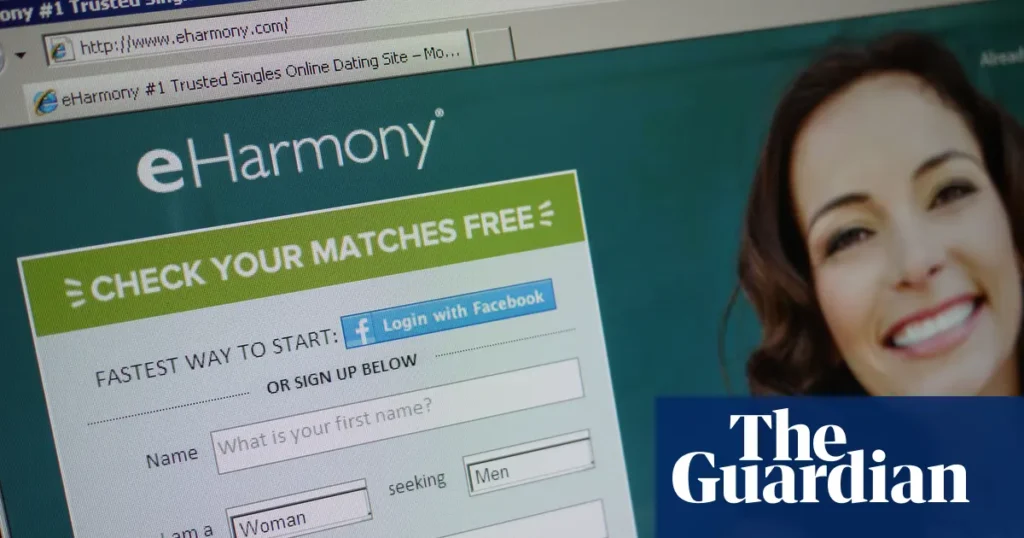 The Science of Compatibility
eHarmony.com's unique selling point is its scientifically driven approach to matchmaking. Dr. Neil Clark Warren and his team developed the compatibility matching system based on extensive research and psychological principles. Here are some key aspects of the science behind eHarmony.com's compatibility algorithm:
The Big Five Personality Traits: eHarmony.com's algorithm assesses users based on the five major personality traits: Openness, Conscientiousness, Extraversion, Agreeableness, and Neuroticism (often abbreviated as OCEAN). This helps identify compatible partners with similar personality profiles.
Values and Beliefs: Beyond personality traits, eHarmony.com takes into account users' values, beliefs, and life goals, aligning individuals who share fundamental core values.
Long-Term Relationship Focus: Unlike many other dating platforms that prioritize short-term connections, eHarmony.com is designed for individuals seeking serious, committed relationships and marriage.
Data Analytics: eHarmony.com constantly analyzes user data and feedback to refine its matching algorithm, ensuring it remains effective in helping users find compatible partners.
Success Stories
Over the years, eHarmony.com has facilitated countless success stories, with many couples attributing their long-lasting relationships and marriages to the platform's compatibility-based approach. These stories illustrate the effectiveness of eHarmony.com in bringing together people who are truly compatible. While each story is unique, they all share a common theme of finding love and building meaningful connections through eHarmony.com's guidance.
Safety and Privacy
eHarmony.com places a strong emphasis on user safety and privacy. The platform employs various measures to protect its users:
Profile Verification: eHarmony.com encourages users to verify their profiles by providing identification. Verified profiles are more likely to be trusted by potential matches.
Privacy Settings: Users have control over their privacy settings, allowing them to determine who can see their profile and communicate with them.
Safety Tips: eHarmony.com provides safety tips and guidelines for online dating, helping users stay informed about potential risks and how to avoid them.
Report and Block: The platform offers a reporting system for users to flag any suspicious or inappropriate behavior. Users can also block and report other users if necessary.
Conclusion
eHarmony.com has firmly established itself as a leading online dating platform with a reputation for fostering meaningful, long-lasting relationships. Its unique compatibility matching system, rooted in science and psychology, sets it apart from many other dating websites. Over the years, eHarmony.com has helped millions of individuals find love, and its success stories continue to inspire hope for those seeking committed relationships.
As online dating continues to evolve, eHarmony.com remains committed to its mission of helping people find true love. With a strong focus on compatibility, safety, and user experience, eHarmony.com is likely to continue being a trusted resource for those on the journey to finding their life partners in the digital age.