Introduction
In the ever-evolving landscape of online dating, EliteSingles.com has emerged as a distinguished platform catering to individuals seeking a deeper connection based on shared values, intelligence, and compatibility. Founded in 2008, EliteSingles has quickly become one of the leading online dating services, focusing on connecting singles who aspire to build meaningful and lasting relationships. With a commitment to quality matchmaking and a unique approach to pairing like-minded individuals, EliteSingles stands out in a crowded digital dating world.
EliteSingles: A Brief Overview
EliteSingles.com, a part of Spark Networks SE, is designed for singles who are seeking a serious and long-term relationship. What sets it apart from the plethora of other dating apps and websites is its emphasis on compatibility through a detailed personality assessment. The platform caters to an audience that values intelligence, education, and personal growth, making it a preferred choice for professionals, academics, and those who appreciate intellectual compatibility.
Key Features of EliteSingles
Personality Assessment: The cornerstone of EliteSingles' success is its in-depth personality assessment, which goes beyond surface-level interests and preferences. The test, developed by psychologists, assesses various aspects of an individual's personality, including openness, conscientiousness, extraversion, agreeableness, and neuroticism. This information is then used to suggest compatible matches.
Matchmaking Algorithm: EliteSingles employs a sophisticated matchmaking algorithm that considers the results of the personality assessment to suggest potential matches. This ensures that users are connected with individuals who share similar values, interests, and relationship goals.
High-Quality User Base: One of the standout features of EliteSingles is its user base, which is known for its educational attainment and professional achievements. The platform attracts individuals who are committed to personal growth and are looking for like-minded partners.
Safety and Security: EliteSingles places a strong emphasis on the safety and security of its users. The platform has robust privacy settings, manual profile verification, and a dedicated customer support team to address any concerns or issues.
Mobile App: EliteSingles offers a convenient mobile app that allows users to access the platform from their smartphones, making it easy to connect with potential matches on the go.
The EliteSingles Experience
Signing up for EliteSingles.com begins with a detailed personality assessment that takes approximately 20 minutes to complete. While some may find this initial step time-consuming, it sets the tone for the unique matchmaking experience that follows. The personality test delves deep into your values, preferences, and relationship aspirations, which helps the algorithm suggest compatible matches based on your individual profile.
Once you've completed the assessment, you can create a profile, upload photos, and provide additional information about yourself. EliteSingles encourages users to be thorough in their profiles, as this can lead to more accurate matchmaking results.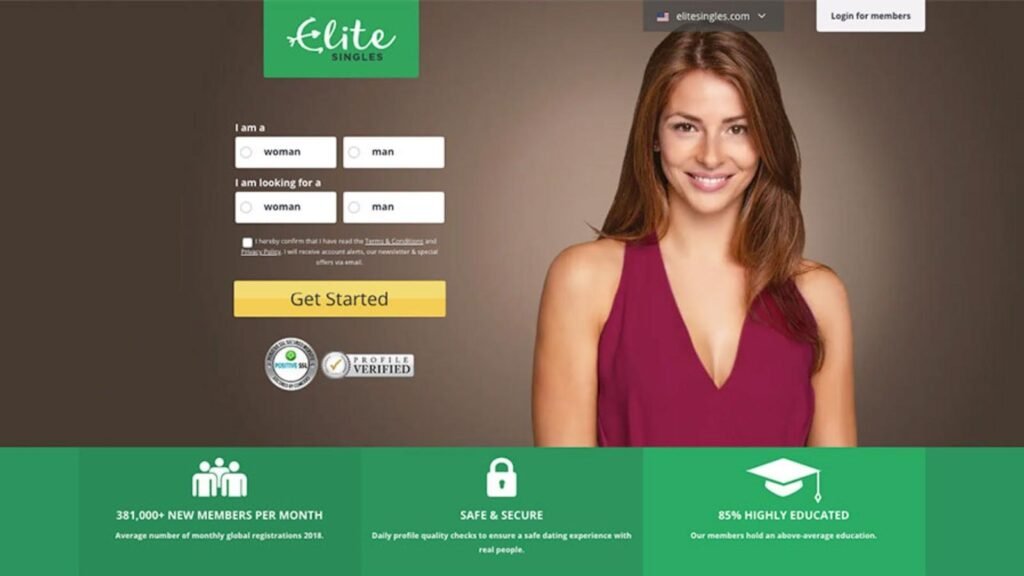 The platform offers both free and premium membership options. While free members can receive matches and send smiles to express interest, premium members have access to additional features, such as unlimited messaging and detailed personality profiles of their matches. The premium membership is a worthwhile investment for those who are genuinely committed to finding a meaningful relationship.
EliteSingles emphasizes quality over quantity when it comes to potential matches. Rather than bombarding users with an overwhelming number of profiles, the platform typically suggests a limited number of carefully curated matches each day. This approach encourages users to take their time and get to know their matches on a deeper level.
The EliteSingles community is known for its seriousness and commitment to finding lasting love. Users are encouraged to communicate openly and honestly, and the platform provides numerous resources, including dating advice articles and expert tips, to help users navigate the complexities of modern dating.
Success Stories
EliteSingles.com has been instrumental in bringing together countless couples who have found love and compatibility through the platform. These success stories are a testament to the effectiveness of the site's matchmaking process. Many users have reported finding partners who share their values, interests, and life goals, leading to fulfilling and lasting relationships.
Criticism and Challenges
While EliteSingles has earned a reputation for its high-quality user base and effective matchmaking, it is not without its challenges and criticisms. Some users have expressed frustration with the limited number of matches they receive each day, as they may prefer more options to choose from. Additionally, the premium membership can be considered relatively expensive compared to some other dating platforms.
Furthermore, despite its efforts to maintain a secure environment, no online platform is immune to scams or dishonest users. Some EliteSingles members have reported encounters with individuals who misrepresent themselves or engage in inappropriate behavior. It is crucial for users to exercise caution and report any suspicious activity to the platform's support team.
Conclusion
EliteSingles.com has established itself as a unique and respected player in the online dating industry. Its commitment to compatibility, intelligence, and long-term relationships sets it apart from the casual dating apps that dominate the market. By focusing on the quality of its user base and using a sophisticated matchmaking algorithm, EliteSingles provides a platform where individuals with shared values and aspirations can connect and build meaningful relationships.
While it is not without its challenges and criticisms, EliteSingles remains a preferred choice for those who prioritize intellectual compatibility and are willing to invest in finding a partner who shares their vision for a lasting and meaningful relationship. For those who seek more than just a casual fling in the world of online dating, EliteSingles.com continues to offer a promising path to love, connection, and compatibility.